The underlying principle of Hurray's training principle being Guaranteed Score Improvement, you can rest assured of getting trained for your desired scores. With a time-tested and study process in assessing and improving performance, Hurray has become one of the best PTE training centers in Bangalore.
Since its inception, Hurray has supported the journey of over 15,000 students in helping their aspirations of studying or working abroad.
Here is an overview about Hurray's offerings in PTE Classroom training:
PTE-Certified Trainers: Our faculty has been inducted based on their experience and acumen. They come with 10-25 years of experience. Apart from imparting top-quality training in pedagogy, our trainers also help each student with efficient time management,  problem-solving and effective strategies towards inching closer to their desired scores. All our trainers are specialists in English language, and go deep into understanding the learning needs of test-takers.
Weekday and Weekend Slots: Convenience of our candidates is at the heart of HURRAY's mentoring culture. Whether you are a professional or a student, you can choose from a wide array of early morning sessions (starting 9:00 am) to the evening classes (till 9:00 pm). We also offer weekend classes for the convenience of professionals joining our PTE course.
Small Batch of Class: Drawing from our core philosophy of student-centered excellence and individual-focused approach, we conduct classes in small batches. This ensures each candidate in a batch gets equal attention and provides sufficient scope for mentor-mentee interactions.
Demo Classes: Our demo classes (both online and classroom-based) help you get a fair insight into our training system.
Tips & Techniques, and Strategies: Given the time-bound nature of the PTE test, we ensure that candidates are offered realistic tips, techniques and strategies in their practice sessions.
Study materials: These range from books to online materials relevant to each module of the PTE test.
Practice tests and mock tests: You get over 8 online practice tests and 3 mock tests as part your enrolment. You can also avail 15 practice tests with Hurray's PTE vouchers.
Crash courses: You can also opt for Hurray's short-term, 30-hours crash course in case of time constraints.
Peer-to-peer assistance: Our PTE Club 90 WhatsApp group has taken a leap from a mere information-sharing platform to an effective student-to-student knowledge and experience sharing group. So, you can draw from preparation tips and other vital PTE-related information by your peers and trainers, as a Hurrayite.
Hurray's Training Process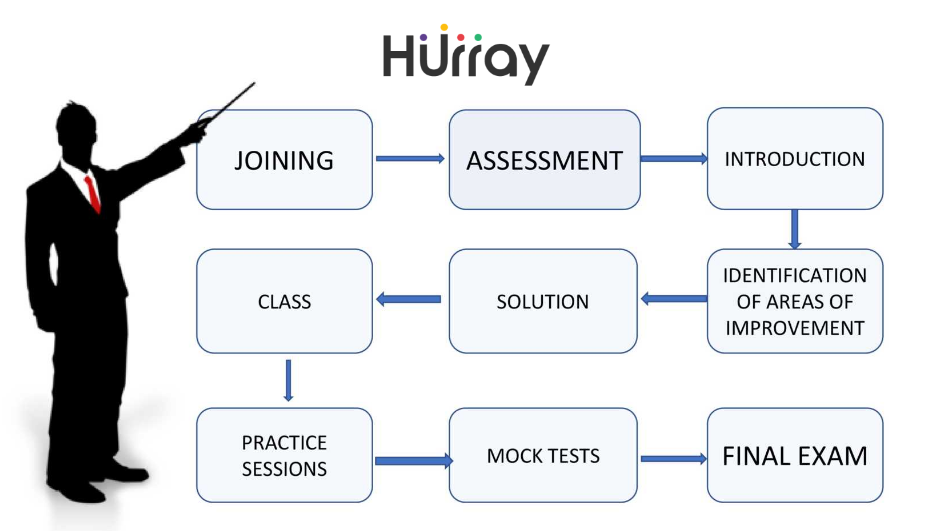 The PTE Academic assesses the real life English skills you will need at your university and living abroad. Not only does PTE assess speaking, listening, reading and writing, but also reflects real life settings, as well as testing academic skills.
PTE Academic is the world's leading computer-based test of English for study abroad and immigration. If one is planning to apply to universities or for a UK or Australian visa and need proof of English proficiency, one can use the PTE Academic score. PTE Academic assesses listening, reading, speaking and writing in a single three-hour online test session
Section
Question Format
Time
Introduction
30seconds
PART 1: SPEAKING &WRITING
Personal Introduction
Read aloud
Repeat sentence
Describe image
Re-tell lecture
Answer short question
Summarise written text (one sentence)
Summarise written text (paragraph)
Essay (20mins)
77 – 93 minutes
PART 2: READING
Multiple choice questions (x2)
Re-order paragraphs
Fill in the blanks (x2)
32 – 41 minutes
BREAK
A ten minute break is optional.
10 minutes
PART 3: LISTENING
Summarise spoken text
Multiple choice (x2)
Fill the blanks
Highlight the correct summary
Select missing word
Highlight incorrect words
Write from dictation
45 – 57 minutes
The PTE Test is scored against the Global Scale of English, giving you an accurate snapshot of the performance of the test-taker on a scale of 10 – 90. Detailed score reports show the overall test-taker performance as well as their ability on sub-skills and enabling skills.
All items in PTE Academic are machine-scored. Scores for some item types are based on correctness alone, while others are based on correctness, formal aspects and the quality of the response.
Formal aspects refer to the form of the response: for example, whether it is over or under the word limit for a particular item type. The quality of the response is represented in the enabling skills. For example, in the item type Re-tell lecture, the response is scored on skills such as oral fluency and pronunciation.
Scores for item types assessing speaking and writing skills are generated by automated scoring systems. There are two types of scoring: Correct or Incorrect.
Some item types are scored as either correct or incorrect. If a response is correct, a score of 1 is given, but if it is incorrect, no score points are awarded.
Other item types are scored as correct, partially correct or incorrect. If responses to these items are correct, the maximum score points available for each item type will be received, but if they are partly correct, some score points will be given, but less than the maximum available for the item type. If responses are incorrect, no score points will be received.
The tables that follow give an overview of how the 20 item types in the three parts of PTE Academic are scored. They also show timings, the number of items in any given test, the communicative skills, enabling skills and other elements scored.
The minimum and maximum time indicated for the sections of each part of the test do not add up to the total time stated. This is because different versions of the test are balanced for total length. No candidate will get the maximum or minimum times indicated.
The PTE Academic reports an overall score.
The overall score is based on the student's performance on all test items. For each item, the score you obtain contributes to the overall score. The overall score range is 10-90 points. Good preparation will definitely result in good PTE scores.
PTE Voucher
Booking a PTE exam can be a highly expensive affair. PTE Voucher is a cost-friendly mode of payment that facilitates writing the PTE exam at a discounted price.
Click here to avail yourself of discounted PTE Vouchers from HURRAY.