The underlying principle of Hurray's training principle being Guaranteed Score Improvement, you can rest assured of getting trained for your desired scores. With a time-tested and sturdy process in assessing and improving performance, Hurray has become one of the best IELTS training centers in Bangalore.
Since its inception, Hurray has supported the journey of over 15000 students in helping their aspirations of studying or working abroad.
Here is an overview about Hurray's offerings in IELTS Classroom training:
IDP Australia and British Council Certified Trainers
Our faculty has been inducted based on their experience and acumen. They come with 10-25 years of experience. Apart from imparting top-quality training in pedagogy, our trainers also help each student with efficient time management, problem-solving and effective strategies towards inching closer to their desired scores. All our trainers are specialists in English language, and go deep into understanding the learning needs of test-takers.
Weekday and Weekend Slots: Convenience of our candidates is at the heart of HURRAY's mentoring culture. Whether you are a professional or a student, you can choose from a wide array of early morning sessions (starting 7:30 am) to the evening classes (till 9:00 pm). We also offer weekend classes for the convenience of professionals joining our IELTS course.
Small Batch of Class: Drawing from our core philosophy of student-centered excellence and individual-focused approach, we conduct classes in small batches. This ensures each candidate in a batch gets equal attention and provides sufficient scope for mentor-mentee interactions.
Demo Classes: Our demo classes (both online and classroom-based) help you get a fair insight into our training system.
Crash courses: You can also opt for Hurray's 30-hours crash course in case of time constraints.
Tips & Techniques, and Strategies: Given the time-bound nature of the IELTS test, we ensure that candidates are offered realistic tips, techniques and strategies in their practice sessions.
Study materials: These range from books to online materials relevant to each module of the IELTS test.
Practice tests and mock tests: Our well-structured 12 full-length practice tests and 4 mock tests are aimed at helping students with focused preparation and concentration—the much-needed traits in IELTS test!
Peer-to-peer assistance: Our IELTS Club 9 WhatsApp group has taken a leap from a mere information-sharing platform to an effective student-to-student knowledge and experience sharing group. So, you can draw from preparation tips and other vital IELTS-related information by your peers and trainers, as a Hurrayite.
HURRAY's Training Process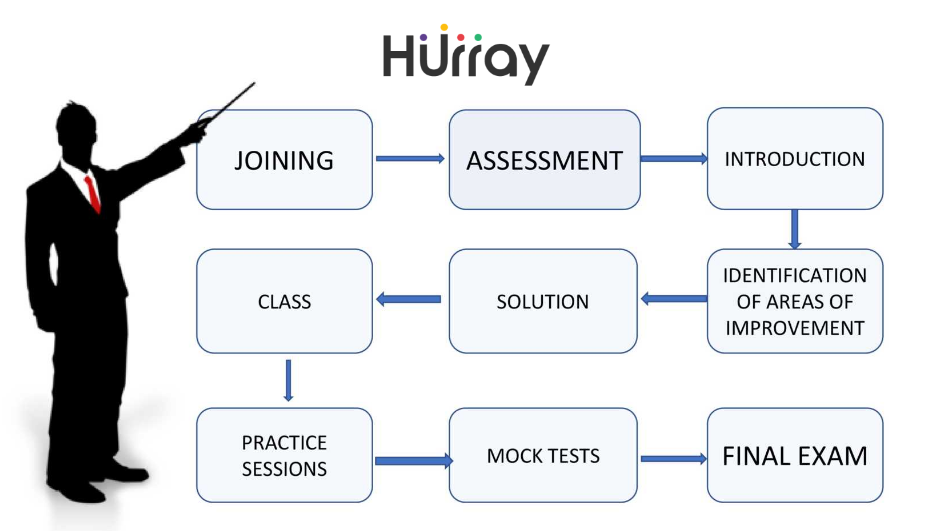 International English Language Testing System (IELTS) is an international uniform test of English language expertise for non-native English language speakers. It assesses all of your English skills — reading, writing, listening and speaking, and is designed to reflect how you will use English at study, at work, and in your new life abroad. IELTS is accepted by most Australian, British, Canadian and New Zealand academic institutions, by over 3,000 academic institutions in the United States, and by various professional organizations across the world.
Our specialists will assist you on all the four modules. We at Hurray can assure you the best training for IELTS and book the examination
There are two versions of IELTS with different IELTS exam patterns to choose from:
IELTS Academic
Admission to undergraduate and postgraduate courses in English speaking countries is based on the results of the Academic test.
IELTS General
This version of the test is also often a visa requirement if you are planning to migrate to English speaking countries including Australia, the UK, Canada and New Zealand.
Information on individual modules
Reading
General reading
It requires candidates to read extracts from books, magazines, newspapers, notices, advertisements, company handbooks and guidelines.
These are materials you are likely to encounter on a daily basis in an English speaking environment
Academic reading
It includes three long texts which range from the descriptive and factual to the discursive and analytical
These texts are suitable for a non-specialist audience but are appropriate for candidates entering university courses or seeking professional registration.
Writing
General writing.
Task 1 – Write a letter requesting information, or explaining the situation presented in the topic. The letter may be personal, semi-formal or formal in style.
Task 2 – Write an essay in response to a point of view, argument or problem.
Academic writing
Task 1 – Explain the information presented in a graph, table, chart or diagram in your own words
Task 2 – Write an essay in response to a point of view, argument or problem.
Listening
You will listen to four recorded texts, monologues and conversations by a range of native speakers, and write your answers to a series of questions. A variety of voices and native-speaker accents are used and each section is heard only once.
Section 1 – A conversation between two people set in an everyday social context.
Section 2 – A monologue set in an everyday social context e.g. a speech about local facilities.
Section 3 – A conversation between up to four people set in an educational or training context, e.g. a university tutor and a student discussing an assignment.
Section 4 – A monologue on an academic subject e.g. a university lecture.
Speaking
Part 1 – General Questions about yourself and a range of familiar topics, such as home, family, work, studies and interests. (4 – 5 minutes)
Part 2 – Talking about a particular topic. You will have one minute to prepare before speaking for up to two minutes. The examiner will then ask one or two questions on the same topic to finish this part of the test. (4 – 5 minutes)
Part 3 – Answer further questions connected to the topic in Part 2. These questions will give you the opportunity to discuss more abstract ideas and issues. (4 – 5 minutes)
Got a query on IELTS Classroom Training? Drop us a mail at info@hurrayedutech.com or give us a buzz at 9900426501.